Welcome to the newly renovated website!
This website has been long overdue for an update, and we're glad to have finally gotten to do it!
We're trying to put more focus and emphasis on our games and projects - putting them front and center so they are easier to spot.
This update is part of our new push to spread the word about our games and projects. We have some big plans for the upcoming months, and we want to make sure that everyone is kept in the loop, as much as possible!
BTW, we switched over the website from using Jekyll to Hugo!
Newsletter
We have plans to launch our newletter, soon, which will help us keep you informed about the different things we have going on. Be sure to sign up so that you can keep up-to-date with everything we have going on, including new game releases, or public appearances!
New Game Released: Eggsolotl!
We released a new game recently!
In this match-3 puzzle game, you play as an Axolotl trying to match up different colored eggs as they fall from the sky!
Eggsolotl is available to play for FREE on Newgrounds, Game Jolt, and Itch.io - with downloads available for Windows, Mac, and Linux.
First Fridays are Back!
We've been long supporters of the Saint Louis Science Center's First Fridays program, so we're very happy that they are back up and running again!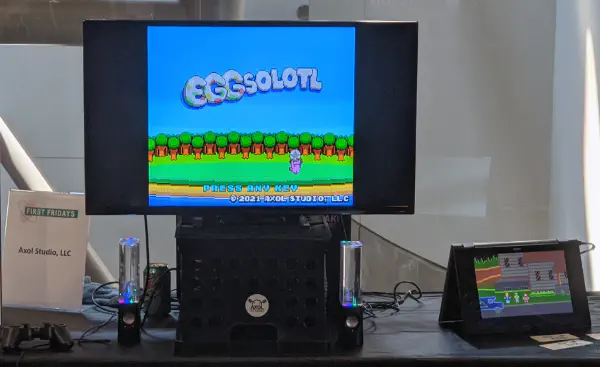 We've attended the last 3, and will be attending many more!
The next one will be on Friday, October 1st, 5pm - 9pm CST - hope to see you there!